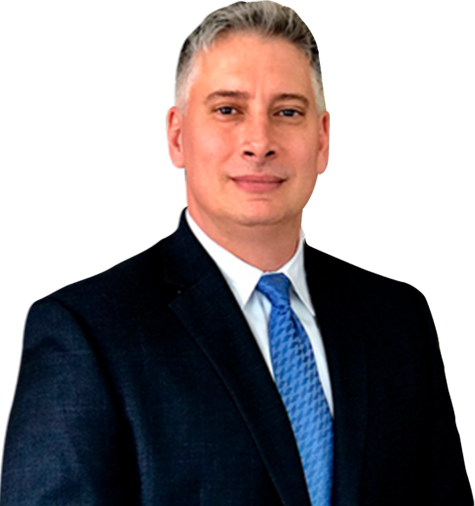 Attorney
Joseph A. Lombardo
Car accidents are always traumatic events. Even a relatively "minor" accident has the potential to cause devastating physical injury, long-lasting emotional upset, and months or years of costly and relentless medical expenses. Insurers promise coverage in the event of an accident, yet insurance companies are notorious for minimizing the damages caused by auto accidents, and even denying perfectly valid claims. If another driver was at fault for your accident and the resulting injuries and financial damages, the situation can become even more complicated as the parties involved attempt to evade liability.
After surviving a car accident, it is entirely natural to feel upset, shaken, and overwhelmed. You are left struggling to recover from your wounds, cope with the mental suffering you've endured, and pay enormous medical bills — all at a time when your injuries may be preventing you from earning independent income. At this challenging time, the prospect of battling with a stubborn insurance company or filing a personal injury lawsuit can seem like an absolutely overwhelming task. Fortunately, you don't have to go it alone. Attorney Joseph Lombardo is here to help.
Joseph Lombardo: Hammonton, NJ Car Accident Attorney
If you have been injured in a Hammonton car accident, or if one of your loved ones was wrongfully killed, you may be able to recover a significant financial award for the losses you have sustained. While bringing a lawsuit may not be able to erase your physical pain, the resulting award can help to cover your medical costs and eliminate the financial hardship your accident has caused. Many people find that taking legal action after an accident helps to bring them something even more valuable than an award: priceless peace of mind that justice has been served.
Hammonton, New Jersey car accident lawyer Joseph Lombardo has been practicing personal injury litigation for over 20 years. Armed with more than two decades of experience, Joseph Lombardo is equipped with the knowledge and skill you need to win the compensation you deserve. If you'd like to schedule your free consultation, or if you simply have questions about your accident, call today at (609) 318-6196.
Hammonton, New Jersey Car Accident Statistics
We always think, "It will never happen to me." Unfortunately, car accidents can affect anyone at any time. With its dense population and extensive roadways, car accidents are common in New Jersey — particularly on the highway system, which is crowded by thousands of vehicles traveling at high speeds around the clock. Major transportation routes in Hammonton include:
Atlantic City Expressway
County Route 536
County Route 542
County Route 559
County Route 561
Route 54
U.S. Route 30
U.S. Route 206
Statistics report that in 2011, a total of 13 people were involved in fatal accidents, resulting in a total of three fatalities. While these numbers may sound low, Hammonton reports a dramatically higher fatal accident count per 100,000 population than the New Jersey average nearly every year.
Common Car Accident Injuries
It's important to understand that in the state of New Jersey, litigants cannot be compensated for emotional suffering. While nobody disputes the terrible emotional toll that car accidents can leave behind, only financial damages may be compensated. These financial damages take into account factors such as loss of income, time, abilities, and of course the medical costs which result from physical injuries.
The injuries caused by car accidents are frequently severe. They can cause debilitating effects for years, or even a lifetime — requiring expensive medical treatments all the while. Some of the most common injuries caused by car accidents include:
Back Injuries
Broken Bones
Burns
Internal Bleeding
Lacerations
Multiple Fractures
Neck Injury ("Whiplash")
Organ Damage
Skin Abrasion ("Road Rash")
Spinal Cord Injury (SCI)
Traumatic Brain Injury (TBI)
Call a Hammonton, NJ Car Accident Lawyer at Lombardo Law Group Today
Unfortunately, insurance companies are driven by profit, and will often look for ways to resist even the strongest claims. Insurance companies are supported by their own attorneys — you need to retain an attorney of your own to level the playing field. To speak confidentially with a Hammonton, New Jersey car accident attorney, call the law offices of Joseph Lombardo at (609) 318-6196, or contact us online. When you've been hurt in an auto accident, we're here for you.
Practice Areas
Case Results
The Personal Injury Trial attorneys of Lombardo Law Group, LLC have recovered 10s of Millions for accident victims over their careers
Client Testimonials

"Joe is a top-notch attorney who zealously represents his clients with intelligence, compassion and integrity. A great resource and team player, I wholeheartedly recommend Joe Lombardo." – Joseph U.