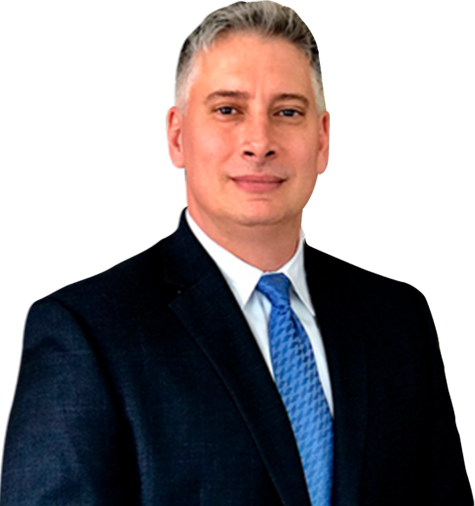 Attorney
Joseph A. Lombardo
It is never easy to cope with the passing of a loved one. In cases where the person's death was caused by the negligence, carelessness, or criminal wrongdoing of another individual, the feelings of grief and loss can be completely overwhelming. You may be able to help lighten your family's burden by filing a wrongful death lawsuit, which could enable you to recover financial compensation.
Let Vineland, NJ wrongful death attorney Joseph Lombardo handle the legal work, so that you can focus on mourning your loss and spending time with your loved ones during this difficult period of adjustment. Joseph has over 20 years of experience helping Vineland families pursue accountability, justice, and compensation, and offers free initial consultations for new clients. Joseph balances personal and compassionate representation with aggressive legal advocacy, and will walk you and your family through each and every step of the process so that you can feel confident your best interests are being looked after.
To set up a free, completely confidential case evaluation with Vineland wrongful death lawyer Joseph Lombardo, call Lombardo Law at (609) 318-6196. Let's start exploring your legal options together.
Types of Vineland Wrongful Death Claims Our Attorney Handles
It goes without saying that no amount of financial compensation can ever replace the life that was lost. However, a wrongful death lawsuit can help to cover the expenses which are left behind when an individual passes. A legal claim can also help to hold the responsible party accountable for their actions, so that other people are not victimized by the same conduct in the future. Wrongful death claims have helped many grieving survivors to heal, gain a sense of closure, and begin to move forward with their lives, from both a financial and an emotional standpoint.
Attorney Joseph Lombardo has more than two decades of experience helping men and women throughout Vineland, NJ pursue favorable outcomes in a wide variety of wrongful death claims, including but not limited to claims arising out of:
Auto accidents
Defective products
Animal attacks
Industrial accidents
Medical errors
Property hazards
Falls
Workplace accidents
Understanding Wrongful Death Lawsuits
In basic terms, a wrongful death is one that would not have occurred if not for some form of negligence, recklessness, criminal activity, or other misconduct. Negligence means failure to anticipate a foreseeable hazard or failure to correct a current hazard. Recklessness means acting with "willful or wanton disregard" for other people's safety.
To give an example of a situation that could constitute wrongful death, a construction worker passes away after being struck by a falling object at a building site. Had the site been properly overseen and operated in accordance with industry, state, and federal regulations, the death could have been avoided. Instead, unsafe on-site conditions in violation of workplace safety laws led to a preventable accident.
In Vineland, New Jersey, medical malpractice is another major cause of wrongful death. Medical malpractice occurs when a healthcare provider fails to exercise the appropriate standard of care, resulting in the death of a patient. This could include failure to diagnose a condition, failure to take a patient's medical history, the sexual abuse of a patient, or operating without an appropriate license. Diederich Healthcare's 2013 Medical Malpractice Payout Analysis ranks New Jersey as number four in the country for medical malpractice payouts.
Due to traffic congestion, aggressive drivers, and proximity to major cities, the state's major roadways can also be very dangerous and have led to numerous fatalities involving wrongful death over the years. According to the New Jersey State Police, in 2011 there were 627 deaths from NJ car accidents. If the driver at fault was intoxicated, aggressive, reckless, or distracted, he or she may potentially be considered liable for the resulting death.
Getting Compensation for a Vineland Wrongful Death Lawsuit
No judge disputes the emotional devastation caused by a loved one's untimely passing. However, state law mandates that psychological suffering may not be considered when evaluating a wrongful death claim in Vineland, NJ. The only factor which the courts may take into consideration is the financial loss resulting from the death. In other words, monetary losses can be financially compensated, but emotional losses cannot. But how does the legal system evaluate the financial losses?
In many cases, economists and/or other financial professionals may be brought into the case to help calculate a detailed projected lifetime loss, predicting what the decedent would have contributed over the next 10 years, 20 years, 30 years, and so forth.
However, it is not simply the decedent's lost income which is weighed. The courts will also consider the loss of care, time, and guidance which amounts to a financial loss. For example, if the decedent had children, the courts will consider the time and care lost to the survivors in terms of child-rearing, babysitting, housework, transportation, and other parental tasks. The idea is to compensate the survivors for quantifiable losses that impact their financial circumstances.
Compensation may also be ordered to help cover funeral expenses, burial expenses, and medical expenses arising from the decedent's personal injury before he or she passed away. While compensation for emotional distress is generally unavailable, you may be able to file an additional claim for the negligent infliction of emotional distress if you witnessed the person's passing.
Call Vineland, NJ Wrongful Death Attorney Joseph Lombardo Today
If you have lost a loved one due to malpractice, negligence, recklessness, or criminal acts, you deserve accountability. Joseph Lombardo can help review the matter and discuss your options. To arrange a free and private legal consultation, call Lombardo Law at (609) 318-6196 today.
Practice Areas
Case Results
The Personal Injury Trial attorneys of Lombardo Law Group, LLC have recovered 10s of Millions for accident victims over their careers
Client Testimonials

"Joe is a top-notch attorney who zealously represents his clients with intelligence, compassion and integrity. A great resource and team player, I wholeheartedly recommend Joe Lombardo." – Joseph U.