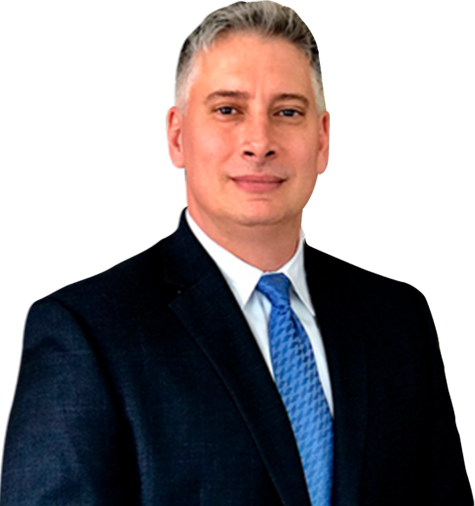 Attorney
Joseph A. Lombardo
When you suffer through a serious injury, it feels like your life is turned completely upside down. At the same time, you're coping with physical pain and recovering from the emotional trauma, you're also confronted with enormous hospital bills on top of missed time from work. If your accident was caused by another person's careless or reckless actions, he or she may be liable for compensating your financial losses.
Let Vineland personal injury lawyer Joseph Lombardo of Lombardo Law Group handle the legal work so that you can focus on what really matters during this difficult time: making a recovery and being with your loved ones. Attorney Joseph Lombardo has more than 20 years of experience handling a wide range of personal injury claims on behalf of Vineland residents and is dedicated to aggressively pursuing maximum compensation for New Jersey's accident survivors.
To set up a completely free and confidential legal consultation, call Joseph Lombardo at (609) 418-4537 today.
Accident Claims Our Vineland, NJ Personal Injury Lawyers Handle
Joseph Lombardo represents plaintiffs in a wide variety of personal injury claims in Vineland, New Jersey, including:
Car Accidents
If you were seriously hurt in an avoidable car accident that was caused by someone driving recklessly, driving while intoxicated (DWI), ignoring traffic rules, or driving while distracted by text messages, that person may be responsible for compensating your medical bills and property damage to your vehicle.
Truck Accidents
It's well-known that the commercial trucking industry struggles with a dangerous problem called "trucker fatigue." When truckers exceed their shift limits because they're trying to meet a deadline, they can become exhausted and fall asleep at the wheel, causing terrible accidents. Truckers are required by law to obey industry regulations.
Product Liability
This refers to defective products, such as dangerous prescription medications or recalled cars. Sometimes product liability involves a product that was not properly labeled with warnings to alert the consumer of the risks.
Slip and Fall Accidents
Slip and fall claims are the most common type of premises liability claim. Premises liability means that property owners are responsible for making sure their properties are reasonably hazard-free for residents, visitors, patrons, and the general public. Slip and fall often occurs because of property hazards like broken railings, uneven flooring, loose wiring, leaks, and even poor lighting in dark areas.
TBI and SCI
Traumatic brain injuries and spinal cord injuries are incredibly devastating to victims. Depending on the area of the brain or spine affected, TBI and SCI can lead to paralysis, reduced motor control, vision loss, chronic pain, difficulty speaking or communicating, mental disability, and other serious medical problems.
Dog Bites
Dogs can inflict powerful bites that destroy tendons, snap bones, and require stitches. If a dog's owner fails to follow leash laws or even keeps a vicious dog on purpose, he or she may be liable for resulting accidents.
How Long Do I Have to File a Personal Injury Lawsuit in Vineland, NJ?
Even if you aren't sure whether you have a case, it's very important to contact a Vineland personal injury lawyer immediately. If you wait too long, you could permanently lose your opportunity to take legal action.
New Jersey imposes a strict time limit on how long plaintiffs have to bring legal claims, known as the "statute of limitations." If the statute expires, you will not be able to file your claim in all but a few exceptional circumstances. The New Jersey statute of limitations on both personal injury and wrongful death claims is two years from the date of the injury or death.
While two years may sound like plenty of time if your accident occurred recently, it is always best to start exploring your legal options with a lawyer sooner rather than later. The earlier you start working with an attorney, the more time there will be to conduct a thorough investigation into the accident. In many cases this involves interviewing industry experts, sending physical evidence for lab analysis, and reviewing medical records.
Getting Compensation for Personal Injuries
There are a few different types of compensation in Vineland, NJ Compensatory damages, for example, and meant purely to compensate the plaintiff for pain and suffering. By contrast, punitive damages are meant to punish the defendant. Punitive damages are sometimes ordered in cases where the defendant acted with extreme negligence or recklessness, in hopes that other people or businesses are discouraged from the same kind of conduct in the future. New Jersey caps punitive damages at either $350,000 or five times the amount of the compensatory damages — whichever number is higher.
Compensation is meant to cover the plaintiff's pain, suffering, and financial losses. This can include medical expenses related to the accident, such as hospital bills, medical equipment, surgery, prescription medications, and physical therapy. It also includes services you had to pay for because of your injuries, such as hiring caregivers or home cleaning services because you are immobilized in bed. If a loved one passed away in Vineland, NJ, wrongful death compensation includes funeral expenses as well.
Vineland, NJ Personal Injury Lawyer Offering Free Consultations
If you were seriously hurt in an accident in Vineland, personal injury attorney Joseph Lombardo can help you seek compensation. But remember — you have to act before the statute of limitations expires. Don't wait until it's too late: to set up your free and private case evaluation, call Joseph Lombardo today at (609) 418-4537.
Practice Areas
Case Results
The Personal Injury Trial attorneys of Lombardo Law Group, LLC have recovered 10s of Millions for accident victims over their careers
Client Testimonials

"Joe is a top-notch attorney who zealously represents his clients with intelligence, compassion and integrity. A great resource and team player, I wholeheartedly recommend Joe Lombardo." – Joseph U.