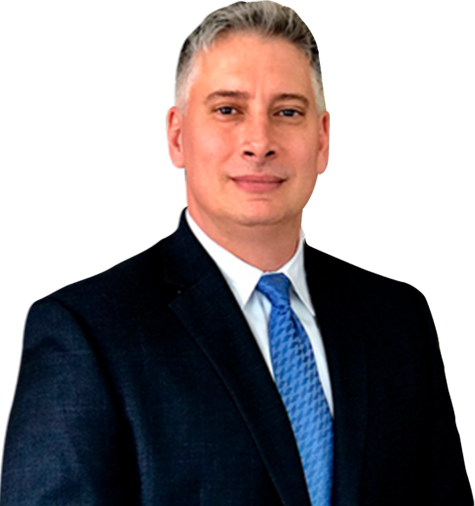 Attorney
Joseph A. Lombardo
When you suffer a serious injury, it feels like your life is turned completely upside down. At the same time that you're coping with physical pain and recovering from the emotional trauma, you're also confronted with enormous hospital bills on top of missed time at work. If your accident was caused by another person's careless or reckless actions, he or she may be liable for your financial losses.
Let the Lombardo Law Group, LLC, handle the legal work so that you can focus on what really matters during this difficult time: making a recovery and being with your loved ones. Attorney Joseph Lombardo has more than 20 years of experience handling a wide range of personal injury claims on behalf of Vineland residents and is dedicated to aggressively pursuing maximum compensation for New Jersey's accident survivors. To set up a free and private consultation, call Joseph Lombardo at (609) 318-6196 today.
Injuries and Accident Claims Our Lawyers Handle
Vineland personal injury lawyer Joseph Lombardo represents plaintiffs in a wide variety of personal injury claims, including the following:
Assault Injuries
Victims of assault or violent attacks may be able to collect financial compensation that can be used to offset their medical bills and lost income, as well as pain and suffering. You may be eligible to file a personal injury claim if you were the victim of simple assault, aggravated assault, aggravated sexual assault, domestic violence, threats of bodily harm, a violent crime, or a hate crime.
Brain and Spinal Cord Injuries
Traumatic brain injuries and spinal cord injuries are incredibly devastating to victims. Depending on the area of the brain or spine affected, TBIs and SCIs can lead to paralysis, reduced motor control, vision loss, chronic pain, difficulty speaking or communicating, mental disability, and other serious medical problems. Brain injuries are commonly caused by falls, assaults, vehicle accidents, and other forms of physical trauma.
Burn Injuries
Burn injuries can result from exposure to extreme heat, harsh chemicals, electrical currents, friction, and radiation. If you believe that you suffered a burn injury as a result of someone else's negligence, you may be able to file a personal injury lawsuit against them.
Car Accidents
Accidents involving vehicles can cause serious injuries and severe damage to personal property. If another party's negligence led to an accident that caused severe injuries, it may be possible to recover compensation. Car and truck accidents are the most common types of vehicle accidents, but accidents involving bikes, motorcycles, buses, and boats can happen, too.
Caregiver Negligence and Nursing Home Abuse
Negligence on the part of a Vineland nursing home or long-term care facility can result in bedsores, malnutrition, dehydration, hip fractures, falls, and more. If your loved one was a victim of caregiver negligence, get in touch with an experienced Vineland personal injury lawyer soon to discuss a personal injury lawsuit.
Dog Bites
Dogs can inflict powerful bites that tear tendons, snap bones, and require stitches. If a dog's owner fails to follow leash laws or even keeps a vicious dog on purpose, he or she may be liable for any resulting accidents.
Medical Malpractice
If an individual is harmed by a medical treatment that does not meet the accepted standards of safety and professionalism, it is considered to be medical malpractice, and the victim may be able to file a medical malpractice suit against the healthcare professional who hurt them. Performing incorrect or unnecessary surgery, prescribing the wrong medication or medication in inappropriate amounts, making an incorrect diagnosis or failing to make a diagnosis at all, and failing to provide a follow-up after a procedure are behaviors that are considered to be medical malpractice.
Premises Liability
If you suffered an injury or someone close to you died because of the negligence of a property owner, you may be able to receive compensation. Injuries on the premises of apartment complexes, bars, restaurants, casinos, grocery stores, hotels, parking lots, and shopping malls are eligible for premises liability suits.
Product Liability
If a product you used was improperly labeled, manufactured, or packaged and winds up injuring you, the manufacturer may be responsible. Defective products that can cause injuries include defective cars, car parts, automotive equipment, prescription drugs, medical devices, household electronics and appliances, and toys and products for children.
Slips and Falls
Slip and fall claims are the most common type of premises liability claim. Premises liability refers to the fact that property owners are responsible for making sure their properties are reasonably hazard-free for residents, visitors, patrons, and the general public. Slips and falls often occur because of property hazards like broken railings, uneven flooring, loose wiring, leaks, and even poor lighting in dark areas.
Workers' Compensation
Workers' compensation insurance exists to provide people who were injured on the job with money for their medical bills and lost income. Workers' compensation can also provide death benefits for the families of employees who died while working. If you had your workers' compensation claim denied, or if your employer did not provide proper coverage for you, use the help of a Vineland personal injury lawyer to file an appeal.
Wrongful Death
The families of those who have suffered a wrongful death can file a wrongful death lawsuit. Common causes of wrongful death include medical malpractice, premises liability, vehicle accidents, and defective products. In Vineland, families that have lost a loved one due to a wrongful death can receive compensation for the loss of the deceased person's income, loss of household care (e.g., performing necessary chores), and loss of parental and spousal care; however, it is not possible to get compensation for emotional suffering, since losses may only be compensated if they ultimately have a financial value.
When to File an Injury Lawsuit in Vineland, New Jersey
Even if you aren't sure that you have a case, it's very important to contact an attorney as soon as possible. If you wait too long, you could permanently lose your opportunity to take legal action. New Jersey imposes a strict time limit on how long plaintiffs have to bring legal claims; this is known as the statute of limitations. If the time window outlined by the statute expires, you will not be able to file your claim in all but a few exceptional circumstances. The New Jersey statute of limitations on both personal injury and wrongful death claims is two years from the date of the injury or death.
While two years may sound like plenty of time if your accident occurred recently, it is always best to start exploring your legal options with a Vineland personal injury lawyer sooner rather than later. The earlier you start working with an attorney, the more time there will be to conduct a thorough investigation into the incident. In many cases, this involves interviewing industry experts, sending physical evidence for lab analyses, and reviewing medical records.
Proving Negligence with a Vineland Personal Injury Attorney
To receive compensation for a personal injury claim in Vineland, the plaintiff and their legal representative must demonstrate that the injuries happened as a result of the defendant's negligence. To prove that the other party was negligent, a few things must be proven.
There are four steps to proving that the defendant was negligent in the breach of their duty of care; read more about each of these steps below:
Proving that the duty of care existed – The plaintiff and their legal representation must prove that the defendant had a duty to keep other parties safe. This depends on the circumstances surrounding the injury; for example, if you were involved in a car accident, the other driver's "duty of care" refers to the fact that they are supposed to follow the rules of the road, whereas if you are involved in a premises liability claim, you must show that the owner had a duty of care to keep the premises safe.
Proving that the duty of care was breached – After the plaintiff proves that the defendant had a duty of care, they must prove that the defendant breached their duty of care by taking an action (or not taking an action) that created unsafe conditions.
Proving that the breach of duty caused an injury – The plaintiff must then show that the defendant's breach of duty was a direct cause of the plaintiff's injuries.
Proving that the injury caused damages – As a plaintiff, the final requirement for receiving compensating is proving that that the defendant's negligence not only caused injuries but caused you to suffer severe physical, emotional, or financial damages.
In Vineland, personal injury cases are determined based on a system that is a variation of comparative negligence, which means that both the plaintiff's and the defendant's role in the incident are evaluated and assigned a percentage of fault. The plaintiff must be less than 51% at fault for the accident in order to collect compensation for their injuries; the percentage of fault that the plaintiff is responsible for will then be deducted from the settlement that they receive.
Compensation Available to Vineland Personal Injury Plaintiffs
There are a few different types of compensation in New Jersey. Compensatory damages, for example, are meant purely to compensate the plaintiff for pain and suffering. By contrast, punitive damages are meant to punish the defendant.
Punitive damages are sometimes ordered in cases where the defendant acted with extreme negligence or recklessness in the hope that other people will be discouraged from engaging in the same kind of conduct in the future. New Jersey caps punitive damages at either $350,000 or five times the amount of the compensatory damages — whichever number is higher.
Compensation is meant to cover the plaintiff's pain, suffering, and financial losses. This can include medical expenses related to an accident, such as hospital bills, medical equipment, surgery, prescription medications, and physical therapy. It also includes services you had to pay for because of your injuries, such as hiring caregivers or home cleaning services because you are immobilized in bed. If a loved one passed away, wrongful death compensation will include funeral expenses as well.
Contingency Structure for Vineland Personal Injury Cases
Contingency fees are intended to make quality legal representation available to victims regardless of their access to financial resources. Contingency fees are a common type of payment system used in personal injury cases.
In New Jersey, a personal injury lawyer can only retain up to one third of the first $500,000 that a plaintiff receives in an award or settlement, no more than 30% of the next $500,000, no more than 25% of the next $500,000, and no more than 20% of the next $500,000. All contingency fees in New Jersey must be recorded in writing and contain information about how the fee will be calculated depending on whether the case goes to trial, appeal, or settlement, as well as what expenses are included in the agreement.
Skilled Personal Injury Attorney Serving Vineland Residents
If you were seriously hurt in an accident in Vineland personal injury attorney Joseph Lombardo can help you seek compensation. Remember: you have to act before the statute of limitations expires. Don't wait until it's too late; to set up your free and private case evaluation, call the Lombardo Law Group, LLC, today at (609) 318-6196.
Practice Areas
Case Results
The Personal Injury Trial attorneys of Lombardo Law Group, LLC have recovered 10s of Millions for accident victims over their careers
Client Testimonials

"Joe is a top-notch attorney who zealously represents his clients with intelligence, compassion and integrity. A great resource and team player, I wholeheartedly recommend Joe Lombardo." – Joseph U.