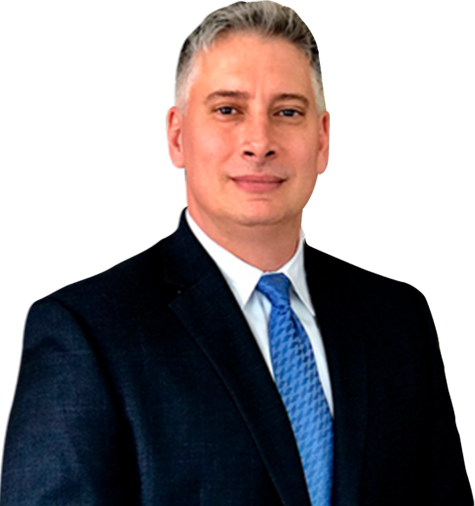 Attorney
Joseph A. Lombardo
Motorcycles have become a cultural icon, representing the freedom of the road. Unfortunately, the same qualities that give motorcycles their maneuverability and speed can also place motorcycle riders in jeopardy of being seriously hurt. Motorcycles are smaller and lighter than other types of vehicles, while riders lack protection from airbags, seat belts, or walls like the occupants of cars and trucks. Because of these factors, motorcycle accidents often result in extremely serious injuries or wrongful death.
If you were seriously injured in a Vineland motorcycle accident, or if one of your loved ones was hurt or wrongfully killed, you may be able to recover compensation for your medical expenses, pain and suffering, and other losses. Joseph has over two decades of experience handling Vineland car accident claims on behalf of injury victims and their families. Joseph will consult with medical experts to analyze the evidence and will walk you through each and every step of the legal process as your claim develops.
To arrange for a free and completely confidential legal consultation with our Vineland, NJ motorcycle accident lawyer, call Lombardo Law right away at (609) 318-6196. Our phone lines are always open, so please do not hesitate to call any time of day or evening.
How Motorcycle Accidents Happen in Vineland, NJ
The National Highway Traffic Safety Administration (NHTSA) monitors and analyzes car accidents throughout the United States in an effort to "help prevent crashes and their attendant costs, both human and financial." The NHTSA and other federal organizations have conducted numerous studies to determine why and how motorcycle accidents commonly occur. Several high-risk scenarios have been identified.
One common scenario involves cars making left-hand turns, accounting for an alarming 42% of all motorcycle accidents. Collisions can easily occur as the motorcycle attempts to cross an intersection, or attempts to pass the car. Because motorcycles are so physically compact, drivers frequently fail to notice riders in their sideview and rearview mirrors. Due to their small size, motorcycles can easily be obscured by blind spots, creating a serious hazard. Factors like DUI, reckless or aggressive driving, and driver distraction can all contribute.
However, accidents are not always caused by other motorists. In some cases, the road itself suffers from defects that can place the motorcyclist's life in jeopardy. For example, negligent road maintenance can lead to issues like potholes, uneven surfaces, and road obstructions, all of which can cause a motorcycle to crash.
In general terms, negligence occurs when a company or individual fails to take reasonable steps to correct or avoid a safety hazard that was or should have been detected. Negligence is an important component of many personal injuries and wrongful death claims.
Motorcycle Crash Injury and Fatality Statistics
All Vineland motorcycle accidents have the potential to lead to debilitating injuries or wrongful death. Sadly, motorcyclists are exceptionally vulnerable to suffering serious injuries due to the lack of protection in the event of an accident.
Unlike the occupants of cars and trucks, who are protected by airbags, seat belts, sturdy walls, and other safety features, motorcycle riders are shielded only by a helmet and thick protective clothing. Additionally, the lack of surrounding structural walls means it is easy for motorcyclists to be thrown from their vehicles, which increases the potential for severe injuries to occur.
According to recent data compiled by the NHTSA, nearly 5,000 motorcyclists were killed in 2012 alone, representing a 7% increase from the previous year. The same year, nearly 93,000 motorcyclists suffered a personal injury after being in an auto accident. The NHTSA also reports that motorcycles "are more likely to be involved in fatal collisions with fixed objects than are other vehicles," with a 22% collision rate compared to 18% for passenger cars and 14% for light trucks.
Common Motorcycle Accident Injuries
Some common types of injuries caused by motorcycle accidents in Vineland, NJ include:
Broken Bones
There are many different types of bone fractures, including buckled fractures (impacted fractures), comminuted fractures, greenstick fractures, oblique fractures, simple fractures, stress fractures, and transverse fractures.
Skin Abrasions (Road Rash)
As mentioned above, motorcyclists are often thrown from their vehicles when accidents occur. As the cyclist skids along the paved surface, the intense friction creates extremely painful skin abrasions commonly known as "road rash," which can later become infected and/or cause permanent scarring.
Spinal Cord Injuries (SCI)
The spinal cord is responsible for relaying messages from the brain to the body. When the spinal cord is injured, the victim can suffer from paralysis, muscle weakness, and chronic pain, among other debilitating effects.
Traumatic Brain Injuries (TBI)
Helmets can significantly reduce the risk of injury or death, with the NHTSA reporting that helmets are approximately 37% effective at preventing motorcycle fatalities. Nonetheless, drivers with or without helmets can suffer from TBI. The medical effects of TBI can include reduced sensory perception, loss of vision, loss of hearing, personality changes, trouble balancing, incontinence, intellectual disability, and increased risk of epilepsy, Parkinson's Disease, and Alzheimer's Disease.
Schedule a Free Consultation with Our Vineland Motorcycle Accident Attorney
If you were injured in a motorcycle crash in Vineland, or if one of your loved ones was an injury or wrongful death victim, you deserve to have the circumstances of the accident reviewed by a knowledgeable and experienced attorney. Vineland motorcycle accident lawyer Joseph Lombardo may be able to help. To set up a free, private case evaluation with Joseph, call Lombardo Law at (609) 318-6196 today.
Practice Areas
Case Results
The Personal Injury Trial attorneys of Lombardo Law Group, LLC have recovered 10s of Millions for accident victims over their careers
Client Testimonials

"Joe is a top-notch attorney who zealously represents his clients with intelligence, compassion and integrity. A great resource and team player, I wholeheartedly recommend Joe Lombardo." – Joseph U.