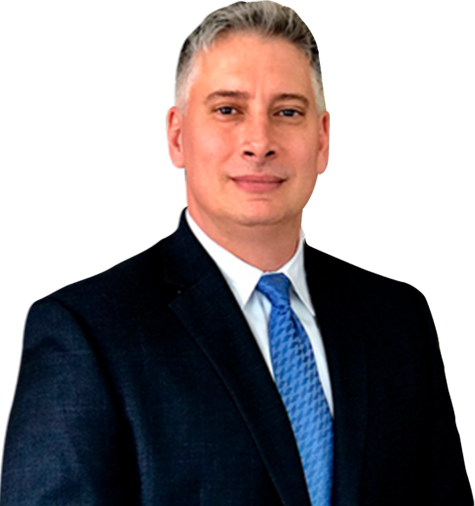 Attorney
Joseph A. Lombardo
We trust doctors, nurses, and other healthcare professionals to look after our safety and well-being as patients. While no one expects doctors to be perfect, we do expect them to provide competent care that meets normal safety standards. Doctors are supposed to help their patients, not harm them. If you were seriously injured after receiving substandard, careless treatment, or if one of your loved ones was a victim of wrongful death, you may be able to recover compensation for your pain, suffering, and financial losses. Personal injury lawyer Joseph Lombardo can help.
Joseph is dedicated to pursuing maximum compensation for injury victims and has more than 20 years of experience handling complex medical malpractice claims on behalf of the residents of Vineland, NJ. Even if you aren't sure whether you have a malpractice claim or not, Joseph will listen to your situation and advise you with regard to some of your possible options going forward.
To set up your free, private consultation with a Vineland medical malpractice attorney, call Lombardo Law at (609) 318-6196. Our phone lines are always open, 24 hours a day, seven days a week, so please don't hesitate to call and see how we may be able to help.
Who Can You Sue for Medical Malpractice in Vineland?
Medical malpractice is sometimes called doctor negligence. However, it isn't just general practitioners and physicians who are liable for harming patients. Other types of healthcare professionals and specialists who can be sued for malpractice in Vineland, NJ include:
Anesthesiologists
Dentists
Eye Doctors (Optometrists)
Gynecologists and OB/GYNs
Nurses
Oncologists (Cancer Specialists)
Pediatricians
Physical Therapists
Surgeons

Brain Surgeons (Neurosurgeons)
Eye Surgeons (Ophthalmologists)
Heart Surgeons (Cardiovascular Surgeons)
Oral Surgeons
Orthopedic Surgeons
Pediatric Surgeons
Plastic Surgeons
Urology Surgeons
What Constitutes a Valid Medical Malpractice Claim in Vineland, NJ?
Malpractice is a highly complex area of personal injury law, and it can be a little confusing to understand when a doctor's conduct (and isn't) considered negligent. While each claim is different, all medical malpractice cases share four major elements in common:
A formal patient-doctor relationship must have been established. This is the first and most basic component of any malpractice claim. There must be a formal relationship between patient and doctor in order to establish a "duty of care" to the patient. If a person is friends with someone who happens to be a doctor, accepts an off-hand remark as medical advice, and experiences a poor outcome, it would not be considered malpractice because no formal duty of care existed.
The duty of care must have been breached, or broken. This is called "breach of duty," and means the healthcare provider failed to meet his or her professional obligations to the patient. The next section of this page will cover some examples of medical errors and doctor negligence.
The breach of duty must have resulted in injury to the patient. Not all breach of duty necessarily results in harm. However, many medical mistakes have the potential to cause severe injury, debilitating illness, or even wrongful death.
There was causation. The final component of a medical malpractice is called causation or proximate cause. Causation means that the patient was injured due to the healthcare provider's actions (or in some cases, the failure to act). In other words, the harm or injury would not have occurred if the doctor had followed a different course of action.
Each potential claim is unique and must be evaluated on a case-by-case basis. It's very important to speak to an experienced attorney about whether your individual situation involves doctor negligence. You could have a strong case without even knowing it.
Examples of Doctor Negligence and Human Error
Even when you understand the criteria listed above, it isn't always obvious whether a doctor's actions could be considered malpractice. This is especially true in cases where the patient was already in poor health. An experienced Vineland medical malpractice attorney, like Joseph Lombardo, will consult with medical experts who can analyze the implications of the care which was or was not provided – and its negative outcomes for the plaintiff.
The following list provides some examples of human errors which could constitute doctor negligence:
Childbirth injuries. This could include:

Failure to identify birth defects or ectopic pregnancies.
Failure to perform a C-Section (Cesarean Section) when necessary.
Inappropriate use of forceps or physical force.
Performing an unnecessary C-Section.

Dental injuries, such as:

Allowing a patient to aspirate foreign objects during dental procedures.
Extracting too many teeth.
Failure to diagnose oral cancer or other oral injury or illness.

Failure to appropriately treat an infection or manage a progressive disease such as diabetes.
Failure to check a patient's medical history for underlying conditions, prescription medications, dangerous drug interactions, or other important health issues.
Failure to diagnose an injury or illness.
Failure to monitor an anesthetized patient's oxygen levels, which can result in coma, organ damage, organ failure, and eventual death.
Foreign object retention, where foreign objects like gauze or scissors are left behind inside of patients' bodies following surgery.
Misdiagnosis and inappropriate treatment rendered for an injury or illness.
Negligent over-prescription, or prescribing too many pills at once, often in dangerous combinations. "Pill mills" have become a subject of heavy media scrutiny as prescription pills become increasingly popular. The National Institute on Drug Abuse (NIDA), which is part of the National Institutes of Health (NIH), reports that prescription drug overdoses now account for more fatalities than heroin and cocaine combined.
Providing care for which the doctor or healthcare professional is not actually licensed and certified.
Providing illegal treatments, such as illegal silicone injections.
Sexual harassment or sexual abuse of patients.
Put simply, doctor negligence means that the healthcare professional failed to take the normal and reasonable steps which should have taken to prevent harm from befalling a patient. A doctor may be considered negligent if he or she (1) was aware of or should reasonably have been aware of a hazard or potential danger, (2) failed to correct or avoid the hazard, and (3) caused injury or wrongful death to a patient as a result. Negligence is a major factor in all types of personal injury cases, ranging from slip and fall accidents to car accidents to animal attacks and dog bite injuries.
Vineland, NJ Medical Malpractice Attorney Offering Free Consultations to Victims
If you were injured or became seriously ill after receiving poor medical care in Vineland, New Jersey, or if you are the spouse or relative of a wrongful death victim, medical malpractice attorney Joseph Lombardo can help you fight to recover compensation. To set up a free, private case evaluation with Vineland personal injury lawyer Joseph, call Lombardo Law at (609) 318-6196 any time of day or evening. You will not be charged any fees, and your consultation will be kept completely confidential.
Practice Areas
Case Results
The Personal Injury Trial attorneys of Lombardo Law Group, LLC have recovered 10s of Millions for accident victims over their careers
Client Testimonials

"Joe is a top-notch attorney who zealously represents his clients with intelligence, compassion and integrity. A great resource and team player, I wholeheartedly recommend Joe Lombardo." – Joseph U.