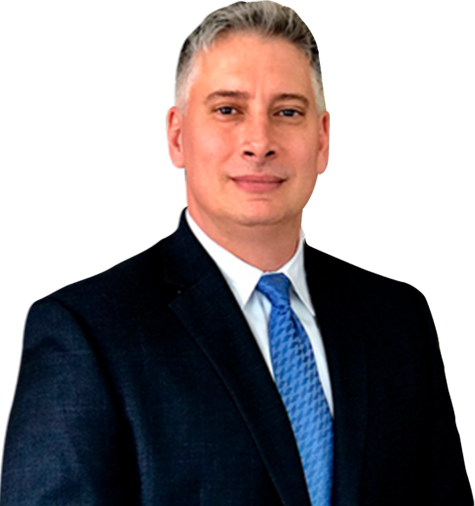 Attorney
Joseph A. Lombardo
A car accident can change your life in an instant. Someone else's negligence can lead to physical and emotional damage, ruined property, and a mess of complications with your insurance company and the person responsible for your accident in Vineland. For the best chance of receiving the compensation that you deserve, you may need to hire an experienced lawyer to help you file a personal injury lawsuit.
Vineland car accident lawyer Joseph Lombardo is prepared to help accident victims across South Jersey deal with their personal injury claims in the aftermath of a car accident. With years of experience, he can help car accident victims get compensation for their damages and deal with obstinate insurance companies. Schedule a free and private consultation with the Lombardo Law Group, LLC, to discuss the options available to you in your car accident case. Call (609) 418-4537 today.
Types of Car Accidents That Happen in Vineland
Accidents can happen anywhere. Given its dense population and proximity to major metropolitan areas, New Jersey is no exception. Vineland residents are susceptible to the following types of car accidents while driving:
Hit-and-run accidents – A hit-and-run is an accident that involves two or more vehicles, a vehicle and a pedestrian, or a vehicle and a piece of property. The driver hits a car, person, or piece of property and then flees the scene before the victim can get their contact information and insurance details. These types of accidents are especially traumatic for victims because it is dramatically more difficult for them to receive compensation for their damages.
Rear-end collisions – This type of accident happens when a vehicle hits the back of the car in front of it. Either car could be at fault; it usually happens either when the rear car is tailgating or when the front car stops too quickly.
Head-on collisions – The most dangerous type of car accident, head-on collisions happen when the front ends of two vehicles collide into one another.
Side-impact collisions – These are also known as T-bone collisions or broadside collisions. They happen when one vehicle impacts the side of another vehicle; it most commonly happens at intersections and can often be fatal for the drivers involved.
Vehicle rollovers – Vehicles that have a high center of gravity are often prone to rolling over when they collide with other vehicles or objects. This is a profoundly dangerous type of car accident.
Injuries that Commonly Result from Car Accidents
Car accidents often involve sharp metal and glass, crumpled vehicles, and the potential for fires and extreme heat, all of which contribute to conditions that can injure drivers, passengers, and pedestrians. A few of the serious injuries that Vineland car accident victims commonly suffer include:
Traumatic brain injuries (also known as TBIs) – This type of injury is caused by sudden blows or jolts to the head. Traumatic brain injuries can result in prolonged headaches, vomiting or nausea, seizures and convulsions, slurred speech, loss of hearing or vision, trouble sleeping, and more. In the most severe cases, victims need full-time medical care to help them perform basic tasks. Traumatic brain injuries are difficult to detect because symptoms may not appear until weeks after the victim experiences the original incident. Similar injuries commonly suffered by victims of car accidents include whiplash and concussions.
Severe burns – It's common for car accident victims to suffer from extreme third- and fourth-degree burns. The medical costs of severe burns are extraordinarily high, and the physical disfigurement and emotional pain that comes from burns can dramatically decrease the victim's quality of life.
Bone breaks and fractures – It's common for pedestrians hit by cars to suffer wrist breaks and fractures when they attempt to break their fall or brace themselves. Drivers and passengers that are inside vehicles involved in accidents often suffer fractures in their faces and limbs.
Compensation You Can Receive Following Your Car Accident
New Jersey is a no-fault state, which means that your insurance company will reimburse you for your out-of-pocket medical bills and other expenses regardless of who was at fault for the accident. Victims usually file a Personal Injury Protection claim (also known as a PIP claim), which provides coverage within the limits of the policy you've purchased.
This is often beneficial for victims of car accidents since their expenses are paid quickly. However, it can be disadvantageous in that it limits victims' ability to sue for pain and suffering. A victim's ability to sue another party for things like loss of income or pain and suffering will depend on the type of auto insurance they have purchased and the degree to which they were at fault for the accident.
How an Experienced Vineland Car Accident Attorney Can Help You
Aside from physical injury and damage to property, one of the toughest things that car accident victims deal with is their insurance company. Insurance companies are often obtuse and do whatever they can to avoid honoring claims made following car accidents. An experienced attorney like Joseph Lombardo knows how to deal with insurance companies so that you can get coverage for any expenses you've incurred as a result of your car accident.
Lawyer Available for Personal Injury Claims in Vineland, NJ
If you or someone close to you was injured in a car accident in New Jersey, get in touch with Vineland car accident lawyer Joseph Lombardo as soon as possible to schedule a free and private consultation. The team at the Lombardo Law Group, LLC, is committed to fighting for compensation for clients who have suffered due to a car accident. Get in touch today by calling (609) 418-4537.
Practice Areas
Case Results
The Personal Injury Trial attorneys of Lombardo Law Group, LLC have recovered 10s of Millions for accident victims over their careers
Client Testimonials

"Joe is a top-notch attorney who zealously represents his clients with intelligence, compassion and integrity. A great resource and team player, I wholeheartedly recommend Joe Lombardo." – Joseph U.