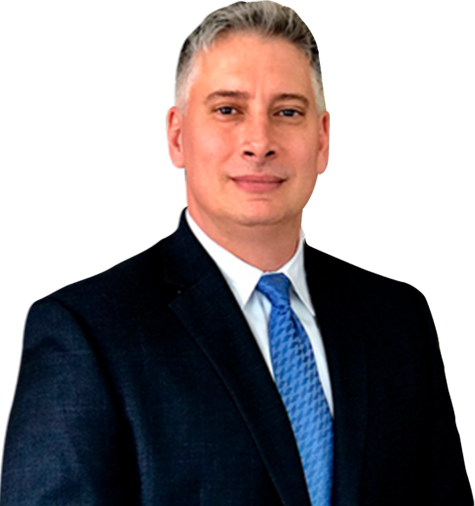 Attorney
Joseph A. Lombardo
While any type of injury has the potential to interfere with everyday life, few are as devastating or disruptive as a traumatic brain injury (TBI). While the effects of TBI vary from person to person, in many cases victims struggle with permanent medical complications which negatively affect them for the rest of their lives. If one of your loved ones sustained a severe head injury or traumatic brain injury after being involved in a car accident, a slip and fall accident, or any other type of accident, your family may be able to recover compensation for your pain, suffering, and financial losses and expenses.
Attorney Joseph Lombardo has more than 20 years of experience representing Vineland, NJ residents in wrongful death and personal injury claims involving TBI and other severe head injuries. Joseph brings an aggressive approach and decades of practical knowledge to every case he handles, and has obtained favorable outcomes for many of his clients.
Don't worry if you have lots of questions, or aren't quite sure where to start – we will listen to you, assess your claim, and help you understand your rights and responsibilities. To set up a free and confidential legal consultation with a Vineland traumatic brain injury lawyer, call Lombardo Law at (609) 318-6196 today. Our lines are always open, including nights and weekends.
TBI Causes and Statistics
According to the CDC, TBI caused approximately 2.5 million hospitalizations in the United States in 2010 alone, including roughly 50,000 fatalities. The CDC identified the five leading causes of TBI from 2006 to 2010 as follows:
Falls – 40.5%
"Other/Unknown" – 19%
Object Strikes – 15.5%
Motor Vehicle Traffic – 14.3%
Assaults – 10.7%
This data is significant to TBI victims and their loved ones, because many of these leading causes involve an element of liability.
Who Is Liable for My Brain Injury in Vineland, NJ?
For example, falls were the number one cause of traumatic brain injuries, including slip and fall accidents. Slip and fall accidents typically occur due to negligent property maintenance, which leads to property hazards like broken railings, loose floorboards, and inadequate lighting. When a Vineland, NJ property owner fails to take reasonable steps to repair or isolate a property hazard, he or she may be considered liable for any deaths or injuries which result.
Motor vehicle traffic, including automotive accidents, was another major cause of TBI. All drivers have a duty of care to cyclists, pedestrians, and other motorists sharing the road. That means refraining from reckless driving, intoxicated driving, fatigued driving, and any other actions which endanger public safety. If your loved one was hit by a car, the other driver may be liable if he or she violated the state's traffic safety laws or created a road hazard by driving in a careless or otherwise unsafe manner.
To give just a few examples, drivers must refrain from taking dangerous actions such as excessive speeding, aggressive/retaliatory use of high beams, weaving in and out of lanes, or tailgating behind other vehicles. Additionally, New Jersey law expressly prohibits texting while driving and talking on a smartphone or cell phone while driving, if hand-held. Hands-free devices must be used "sparingly."
Common Side Effects of a Traumatic Brain Injury
The brain is a tremendously complex organ, and the effects of TBI can vary depending on factors like the severity of the injury, the age of the victim, and which part of the brain was injured. That being said, potential and common side effects that you may suffer from a TBI after an accident in Vineland include, but are not limited to, those listed below:
Aphasia (e.g. anomic aphasia, expressive aphasia): a communication disorder and can involve effects such as:

Difficulty speaking.
Difficulty understanding language.
Difficulty reading and writing.

Difficulty walking or balancing. In extreme cases, the victim may become partially or completely paralyzed. Paralysis may manifest as:

Paraplegia – Paralysis of the lower half of the body.
Quadriplegia (Tetraplegia) – Paralysis which affects the entire body (i.e. limbs and torso).
Monoparesis/Monoplegia – Weakness/paralysis (respectively) which affects just one limb, typically an arm.
Hemiparesis/Hemiplegia – Weakness/paralysis (respectively) which affects just the left or just the right side of the body.

Urinary and/or fecal incontinence.
Cognitive impairment and intellectual disability.
Chronic pain, particularly chronic migraines and severe headaches.
Reduced motor function, such as the ability to write with a pen or use a fork.
Reduced perception of pain, pressure, and/or temperature. This condition is extremely dangerous, because it can lead to the victim burning or otherwise injuring themselves without realizing it.
Unfortunately, many TBI victims are forced to make dramatic changes to virtually every aspect of their everyday lives. Depending on the severity of the brain injury and its effects, the victim may have to end or change their career, make expensive modifications to their home, take various medications, undergo surgical procedures, attend counseling or therapy to cope with depression and anxiety, and/or stop participating in hobbies and leisure activities they once enjoyed. They may have to hire a professional caregiver to assist with daily tasks, or may even have to move into a care facility.
Vineland Brain Injury Attorney Offering Free Consultations to TBI Victims
In short, these injuries don't just affect the victim – they affect the victim's loved ones and family members as well. Traumatic brain injuries are especially devastating in cases where the TBI victim was formerly providing for his or her family or children.
If one of your loved ones is suffering from TBI, you deserve to have the accident investigated by an experienced Vineland, brain injury attorney. Your loved one may be eligible for compensation. Call Joseph Lombardo today at (609) 318-6196 to set up your free and private case evaluation.
Practice Areas
Case Results
The Personal Injury Trial attorneys of Lombardo Law Group, LLC have recovered 10s of Millions for accident victims over their careers
Client Testimonials

"Joe is a top-notch attorney who zealously represents his clients with intelligence, compassion and integrity. A great resource and team player, I wholeheartedly recommend Joe Lombardo." – Joseph U.