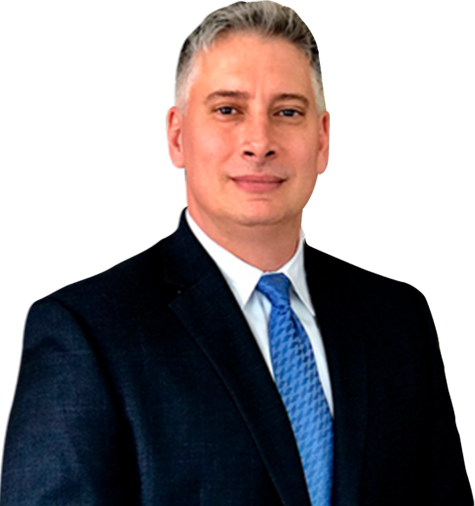 Attorney
Joseph A. Lombardo
Trains are widely regarded as one of the safest forms of transportation, carrying millions of passengers without incident each day. Sadly, as the recent Amtrak Train 188 derailment reminded the nation, rail travel is not entirely free of risks. Issues like mechanical defects, operator error, faulty signals, and software glitches can all contribute to dangerous and deadly train wrecks. If you or someone you love was injured while riding a train in Atlantic City, it may be possible for you to collect compensation to help with your medical bills and other financial losses.
Attorney Joseph Lombardo has over two decades of experience handling complex personal injury and wrongful death claims on behalf of Atlantic City residents. Through persistence and dedication, Joseph has obtained favorable outcomes for numerous clients. If you suffered an injury through no fault of your own, you deserve to have your accident investigated. Train operators and railway companies who cause harm to others should be held accountable for their negligence.
It's alright if you don't know whether you have a claim, or aren't quite sure where to begin. Atlantic City, NJ train accident lawyer Joseph Lombardo will review your situation, explain your options, and guide you through every step of the legal process. To set up a free, confidential consultation with Joseph, call Lombardo Law at (609) 445-4300 today.
Train Wreck Death + Injury Statistics
Compared to other types of vehicular accidents, train crashes and collisions are relatively rare. However, as the tragic Amtrak disaster in Philadelphia made painfully clear, accidents can and do occur.
According to the Federal Railroad Administration, Office of Safety, there were 1,762 train accidents in 2014, resulting in two fatalities. However, when railroad "incidents" are combined with accidents, that number rises to 804 fatalities (out of 11,896 accidents and incidents).
Among all accidents reported in 2014, there were:
146 collisions
1,246 derailments
370 accidents classified as "other"
The data also analyzed crash causes, as follows:
677 were caused by human error
515 were caused by track defects
227 were caused by faulty equipment
46 were caused by faulty signals
297 were attributed to "miscellaneous causes"
In Atlantic City, trains and other modes of public transportation are part of the NJ Transit system. Due to proximity to major cities, numerous Atlantic City residents ride commuter trains every day. In January of 2015, a three-year-old child killed and seven others were injured after an NJ Transit train collided with a car in Burlington County. Pedestrians have also been killed by falling onto tracks.
Common Types of Train and Railroad Accidents in Atlantic City, NJ
Many different factors can cause or contribute to train accidents in Atlantic City, depending on the nature of the accident itself. Different types of train accidents include:
Collisions – Collisions can occur between multiple trains, or between a train and a parked car, such as a vehicle which has been left on or very near the train track. Due to the huge gap in size and weight, passenger vehicles are completely helpless against the sheer force of an oncoming train, and injuries are typically fatal or traumatic.
Derailments – Derailments are catastrophic accidents that occur when a train completely separates from the track on which it travels. Derailments can be extremely forceful and violent events, and passengers can easily be injured by falling people or loose luggage as the train overturns. The Train 188 accident was an example of a derailment.
Railroad Crossing Accidents – These are accidents that occur when a train strikes a pedestrian or vehicle in a railroad crossing. When railroad crossings are obstructed by vegetation, animals, debris, or abandoned vehicles, the personnel and passengers riding inside are also placed into jeopardy.
Common Causes of Train Crashes and Collisions
Both human and non-human factors can both lead to deadly train wrecks. Issues which can lead to crashes include:
Human Error – Examples include operating the train while intoxicated, distracted, or fatigued, failing to brake adequately, and failing to use or respond to signal lights as appropriate. Despite initial speculation that the wreck was caused by people throwing rocks at the train, federal investigators eventually ruled out human error as the cause of the Amtrak tragedy.
Track Defects – Even if the train is well-maintained and the operator drives with care, a defective track can still cause derailment or other accidents. Defects might include cracked, chipped, rotted, or broken rails resulting from negligent maintenance, or obstructions strewn across the tracks. As the Federal Highway Administration notes in a recent guide to vegetation control, "Brush and trees should not be allowed to obscure the railroad tracks and any approaching trains. A cooperative effort of the railroad and roadway agency is needed. Municipalities are responsible for controlling the vegetation on their right-of-way and railroads are responsible for controlling the vegetation on their right-of-way."
Train Defects – In some cases, trains suffer from manufacturing defects and mechanical failures stemming from design, assembly, and production. In other instances, trains that start in good condition eventually decline and break down due to poor maintenance practices. In either case, defects like metal fatigue, faulty wiring, or overheating components are all major safety concerns. Signal defects can confuse operators and lead to preventable collisions and derailments.
Train safety is enforced by the Federal Railroad Administration, which sets forth various rules and regulations for operators and companies. These regulations govern matters ranging from hours of service for railway employees, to signal system reporting requirements, to rules for maintenance, installation, and repairs. In many instances, accidents can be traced back to failures to comply with these crucial safety rules.
Atlantic City Train Accident Lawyer Offering Free Consultations
If you or someone you love was injured while riding a train, you may be able to recover compensation. To start discussing your matter in a free and private case evaluation, call Atlantic City train accident attorney Joseph Lombardo at (609) 445-4300 any time of day or evening.
Practice Areas
Case Results
The Personal Injury Trial attorneys of Lombardo Law Group, LLC have recovered 10s of Millions for accident victims over their careers
Client Testimonials

"Joe is a top-notch attorney who zealously represents his clients with intelligence, compassion and integrity. A great resource and team player, I wholeheartedly recommend Joe Lombardo." – Joseph U.