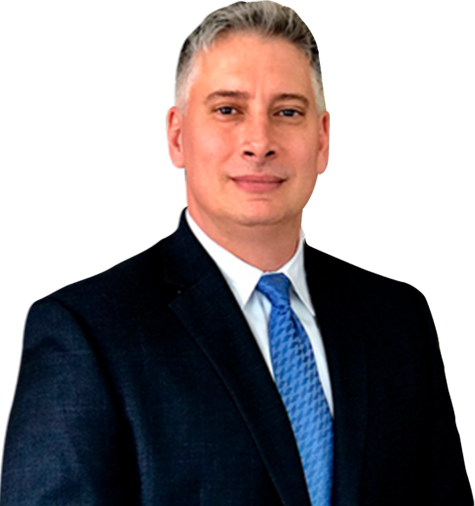 Attorney
Joseph A. Lombardo
Motorcycles have been on our streets since the nineteenth century. Ever since their first appearance, these fast, sleek machines have captured our imaginations and gone on to rank among the most popular auto vehicles in the country. According to the National Highway Traffic Safety Administration, over seven million motorcycles are currently registered across the United States. New Jersey has one of the highest numbers of motorcycles in the country, ranking #8 with nearly 330,500 registered vehicles.
Common Causes of Motorcycle Accidents in Atlantic City, NJ
Unfortunately, the speed and maneuverability that makes motorcycles popular, can also make them dangerous. According to the New Jersey Department of Law and Public Safety, motorcycle injuries and fatalities are widespread — and their numbers are increasing. Between 2003 and 2007, the amount of motorcycle registrations in New Jersey increased by 17%. During the same time period, 377 motorcycle deaths occurred on New Jersey highways. The Department of Law and Public Safety reports that among these deaths:
21% involved excessive speed.
27% involved alcohol intoxication.
23% involved a revoked or suspended license.
Joseph Lombardo: Atlantic City Motorcycle Accident Attorney
Unfortunately, these figures demonstrate that many New Jersey motorcycle accidents do not result from a sincere attempt to drive safely, but from reckless driving, intoxicated driving, or driving without a license. If you have been injured in an Atlantic City motorcycle accident as a result of someone else's dangerous or reckless conduct on the road, you may be entitled to financial compensation.
At the law offices of Joseph Lombardo, our team of Atlantic City attorneys has over 20 years of experience aggressively litigating motorcycle accidents. For more than two decades, our seasoned legal team has helped numerous clients obtain the financial restitution they deserve, while holding negligent parties accountable for their destructive actions and the damage they cause.
Common Motorcycle Accident Injuries
Needless to say, any serious auto accident is devastating in terms of physical, emotional, and financial well-being. However, due to both motorcycle design and shortcomings in the protection afforded by safety apparel, motorcycles and their riders are particularly vulnerable to catastrophic injury, or even death.
The Federal Highway Authority reports that on an annual basis, roughly 2,500 crashes involving motorcycles take place on the roadways of New Jersey. Many of these crashes occur on highways, where drivers are both densely concentrated and traveling at significantly higher speeds than on other types of roads. In Atlantic City, crowded, fast-moving highways like the Atlantic City Expressway and US 322/40 can be very dangerous for motorcycle riders and other motorists.
Sadly, a disproportionately high amount of accidents involving motorcycles end in death. According to the New Jersey State Police, out of the 35 motorcycle accidents reported in 1994, all 35 resulted in death. In 1995, 38 out of 38 accidents resulted in death. In 1996, 50 out of 51 accidents resulted in death. This grim pattern shows all too clearly that the survivability of motorcycle accidents is frequently very low. Motorcycles do not offer riders the protective cages of four-wheel vehicles, and in many cases, the only protection against the road and oncoming vehicles is a helmet, and a few inches of leather.
Some of the most common injuries involved in motorcycle accidents include:
Spinal Cord Injury
Traumatic Brain Injury
Bone Breaks and Fractures
"Road Rash" (caused by scraping along the surface of a roadway)
Motorcycle Accident Insurance
If you have been involved in a motorcycle accident, insurance companies are going to become involved in the matter. It is very important that, following a motorcycle accident, you contact your insurance company and notify them of the accident. However, it is also important for motorists to be aware that insurance companies are notorious for attempts to evade making proper pay-outs, and it is highly disadvantageous to speak to insurance representatives without the assistance of an aggressive and experienced Atlantic City motorcycle accident lawyer who can protect your financial interests.
In New Jersey, all motorists are required to carry insurance in the event of an accident. This rule is not limited to cars and trucks — motorcycles must also be covered by an insurance policy. The owners and operators of motorcycles and other vehicles are also required by the state of New Jersey to meet a minimum threshold of liability coverage, and some riders may also add UM (Uninsured Motorist) or UIM (Underinsured Motorist) insurance.
Unlike the personal injury protection (PIP) insurance associated with cars, motorcycle insurance does not cover the medical expenses incurred by a motorcycle accident, which means that litigation and restitution is especially important. Where motorcycle accidents are concerned, PIP benefits in New Jersey are only granted to pedestrians who have been hit by a motorcycle.
Determining Negligence in an Atlantic City, NJ Motorcycle Accident
Because of the innate danger in the operation of a motorcycle and the motorcycle's construction, determining negligence can be complicated. If, after a fall, you only suffer from a broken bone or minor scrapes and bruises, it's best to get a professional opinion regarding your medical condition. Often, with injuries resulting from motorcycle falls, injury to soft tissue may take some time to make itself known. If another motorist causes damages to your body or your bike, you may be in a position to recover monetarily from the damages.
It is important to know that before you deal with any insurance company, it may be in your best interest to contact legal representation. Insurance companies do not work for you and will often try and make you make a statement regarding an accident before you are clear of the details or implications involved in doing so. It is advisable to retain your motorcycle personal injury lawyer before making the statement. Insurance companies make money by limiting money they have to pay out in damages. By knowing the in's and out's of the insurance companies, your attorney will be able to handle the correspondence with the insurance company on your behalf in a fashion so that it will be able to pursue damages if you are entitled to them.
Atlantic City, NJ Motorcycle Accident Lawyers Offering Free Consultations
Joseph Lombardo has dealt with hundreds of motorcycle accident cases and can help you understand the issues surrounding a case involving injuries suffered as a result of a motorcycle accident. In a free consultation, Mr. Lombardo can meet with you personally and will, in plain English, help you understand the backdrop of the issue.
If you or a loved one has been injured in New Jersey motorcycle accident, you do not have to suffer in silence: you may be eligible to collect financial restitution for the damages against you. To speak to a highly experienced Atlantic City motorcycle accident attorney about the details of your case, call the law offices of Joseph Lombardo at (609) 445-4300, or contact us online.
Practice Areas
Case Results
The Personal Injury Trial attorneys of Lombardo Law Group, LLC have recovered 10s of Millions for accident victims over their careers
Client Testimonials

"Joe is a top-notch attorney who zealously represents his clients with intelligence, compassion and integrity. A great resource and team player, I wholeheartedly recommend Joe Lombardo." – Joseph U.