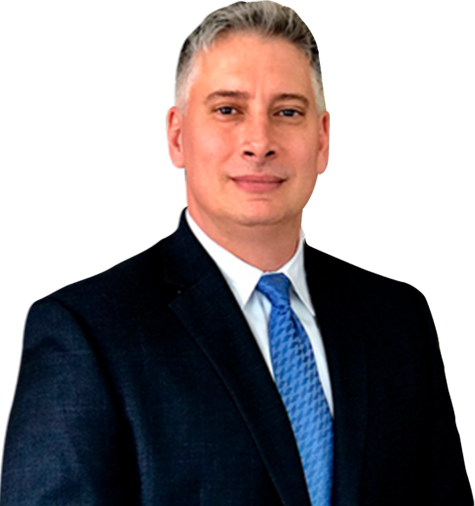 Attorney
Joseph A. Lombardo
As one of the most densely populated states in the U.S., New Jersey sees a lot of car wrecks. They can have severe impacts on the people and property that are involved in them, leading people to deal with totaled cars, physical injuries, and mental turmoil in the wake of their accidents. It's important to be prepared to act if you have been in a wreck and have sustained one of the common injuries that people suffer after a car wreck in Atlantic City.
If you have been involved in a car crash, you are advised to get in touch with Atlantic City car wreck attorney Joseph Lombardo as soon as possible. With more than two decades of experience handling personal injury lawsuits after car wrecks in Atlantic City, he is prepared to help his clients fight for what they deserve. Contact Atlantic City car wreck lawyer Joseph Lombardo at Lombardo Law Group, LLC, to schedule a free consultation by calling (609) 445-4300.
What to Do If You Get in a Car Wreck in Atlantic City, NJ
Getting into a car wreck, no matter where it is, can be an overwhelming, anxiety-inducing experience. It's important to be prepared for a car accident by knowing what you should do if you ever happen to be in one.
The first thing that you should do if you are in a car wreck is to remain calm and pull your car over to the side of the road or somewhere out of the way of other traffic, if you are able to. Then, check to make sure that you and other involved parties are not hurt. If someone is hurt, refrain from moving them, as that could make their injury worse. Wait for medical professionals to arrive on the scene.
Then, call the police and ask them to send medical help for anyone that may have been injured. If no one is injured, you should still make sure that everyone involved remains on the scene until the police arrive. While you're waiting for the police, you should exchange contact information, insurance information, and vehicle information with the other driver. This is also a good time to take photos of the damage to both vehicles, which will be useful later if you end up taking legal action against the other driver.
After the police arrive and take statements regarding the wreck, seek a medical evaluation from a doctor. Even if you don't think that you have any injuries, you should still seek help since some injuries, especially those of the neck and back, may take some time to be felt. If you have to file a lawsuit for your injuries, a visit with a doctor for an injury is an important step to winning your case.
After you have sought a visit with a doctor, call your insurance company or insurance agent and alert them to the fact that you have been in an accident. As time goes on after your car wreck, keep notes on your medical condition, which will be useful if you seek legal action at a later date.
Finally, if you have been injured, you should seek a consultation with an experienced personal injury lawyer immediately after. If you are able to file a lawsuit for your injuries, they will let you know about the steps you can take. It is possible that you will be able to receive compensation for your injuries if the other driver exhibited negligence in their driving; compensation may include the cost of medical care, pain and suffering, and more.
Common Injuries from Car Wrecks in Atlantic City
Given the similarities in circumstances surrounding most car wrecks, there are certain injuries that frequently happen as a result of car wrecks. The following are common injuries that can occur because of car accidents.
Traumatic brain injury (TBI) – Car wrecks are one of the leading causes of traumatic brain injuries. Traumatic brain injuries can cause victims to become paralyzed, suffer from chronic pain, and suffer from a loss of vision, hearing, speech, or memory.
Whiplash – When a victim's head and neck move at a high velocity, muscles and ligaments may be damaged. This is known as whiplash.
Broken or fractured bones – Bones can be broken in numerous ways in car wrecks, whether by compression, by chunks of debris, and by other types of impacts.
Lacerations – The broken glass, dented steel, and splintered plastic involved in a car wrecks have sharp edges and points that can cause deep cuts in car accident victims. These wounds are prone to infection and other complications and often require stitches.
Internal injuries – Being struck with sufficient force may cause victims to experience internal injuries, such as ruptured organs or internal bleeding.
Severe burns – Car wrecks sometimes involve contact with hot surfaces, such as hot car engines, fires, and explosions fed by chemicals and synthetic materials in and around the vehicle. For victims that may be trapped inside of a vehicle, the risk of suffering severe burns is high.
Lawyer for Car Wrecks in Atlantic City Offering Free Consultation
If you or someone you know has been involved in a car wreck in Atlantic City, New Jersey, you should seek the help of the Lombardo Law Group, LLC, as soon as possible. Atlantic City car wreck lawyer Joseph Lombardo offers free consultations to clients seeking legal representation and guidance in the wake of their car crashes in Atlantic City. If you are interested in learning more about Joseph Lombardo's services, which are available to people across the state of NJ, call (609) 445-4300 today.
Practice Areas
Case Results
The Personal Injury Trial attorneys of Lombardo Law Group, LLC have recovered 10s of Millions for accident victims over their careers
Client Testimonials

"Joe is a top-notch attorney who zealously represents his clients with intelligence, compassion and integrity. A great resource and team player, I wholeheartedly recommend Joe Lombardo." – Joseph U.