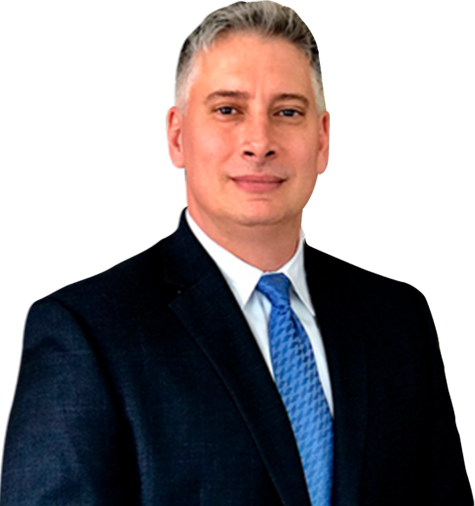 Attorney
Joseph A. Lombardo
A serious injury can change your life forever. If you were hurt in an accident where another person was at fault, or if a loved one passed away after being injured, you and your family could be entitled to significant compensation. Compensation can help you cover your medical bills, make up lost income, pay for services you might need to purchase because of your injuries, accommodate funeral expenses, and more.
But while you're going through the process of grieving and adjusting, you shouldn't have to tackle the legal system on your own. Let Lombardo Law handle the legal work, so that you can focus on yourself and your family during this difficult time. Attorney Joseph Lombardo has more than 20 years of experience representing residents of Gloucester County, and handles a wide variety of claims including but not limited to auto accidents, dog bites, medical malpractice, premises liability, product liability, slip and fall, spinal cord injuries, traumatic brain injuries, and wrongful death. To arrange a completely free and confidential case evaluation, call Joseph Lombardo today at (609) 318-6196.
Injuries and Accident Claims Our Gloucester County Lawyers Handle
The lawyers at the Lombardo Law Group, LLC, are prepared to handle nearly any personal injury case. The types of cases that they can represent clients for include the following:
Asbestos Exposure
When people are exposed to asbestos for too long, they may be susceptible to conditions such as asbestosis, mesothelioma, and lung cancer. If you were forced to expose yourself to asbestos at work or your place of residence, your employer or building owner may be held responsible for your medical condition through a personal injury lawsuit.
Assault Injuries
Assaults or violent attacks can result in damages to the victim that they may be able to collect financial compensation for. Hates crimes, violent crimes, threats of bodily harm, domestic violence, aggravated sexual assault, aggravated assault, and simple assault are all types of assault that are eligible for personal injury claims.
Burns
Unexpected exposure to electrical currents, extreme heat, harsh chemicals, friction, or radiation can result in severe burns that might be attributed to the negligence of a property owner. Filing a personal injury lawsuit can result in compensation for damages suffered as a result of these burns.
Caregiver Negligence
The staff at nursing homes and other long-term care facilities can sometimes fail to provide proper care for patients, resulting in bedsores, malnutrition, dehydration, and bone fractures. Failure to provide proper care is a form of negligence that can result in a personal injury lawsuit.
Dog Bites
A dog bite can be attributed to the negligence of a dog owner that does not properly train their dog, brings their dog to public places when they know that the dog is a threat to other people, or fails to keep their dog on a leash. Common dog bite injuries include destroyed tendons, cuts and lacerations, and snapped bones.
Medical Malpractice
Sometimes, medical treatment can cause harm to patients. In these cases, the medical treatment fails to meet the accepted standards of safety and professionalism. Victims can file personal injury lawsuits against medical professionals that cause harm for reasons including incorrect or unnecessary treatments (including botched surgeries), prescribing inappropriate medication or medication in inappropriate dosages, failing to provide follow-up after a procedure, failing to make a diagnosis for a patient, or otherwise being negligent in the care that is provided to patients.
Premises Liability
Injuries that happen because premises were not maintained by property owners may be eligible for compensation through a personal injury lawsuit. Common injuries that happen on premises that are poorly maintained include slip and falls (which often happen due to broken railings, uneven flooring, loose wiring, leaks, and poorly lit areas) and burns (often as a result of poorly maintained radiators or electrical circuitry). Owners of apartment complexes, grocery stores, bars, restaurants, hotels, casinos, parking lots, and malls can be held accountable for injuries that happen as a result of their negligence.
Product Liability
Products that are labeled improperly, manufactured with defects, or packaged in the wrong way can cause injuries to users. In these cases, the product manufacturer can be held accountable to injuries. Products that commonly cause injuries include cars, car parts, medical devices, prescription medications, household appliances, electrical appliances, furniture, and children's toys.
TBIs and Spinal Cord Injuries
Spinal cord injuries and traumatic brain injuries can result in severe damage to victims' well-being. These injures can result in paralysis, poor sleep, reduced motor control, vision loss, chronic pain, memory loss, cognitive dysfunction, and difficulty speaking and communicating. This type of injury is usually caused by car accidents, slip and falls, and object strikes.
Vehicle Accidents
Vehicle accidents can cause severe injuries and damage to property. If another driver's negligence caused an accident that led to your injuries, you may be able to file a personal injury lawsuit to receive compensation. Vehicle accidents most commonly involve cars and trucks, but they can also involve bikes, motorcycles, buses, and boats.
Workers' Compensation
Workers' compensation is intended to provide payment to employees that are injured while working; employees may be compensated for their medical bills and lost wages resulting from their injury. However, workers' compensation claims are not always recognized by insurance companies, and employers do not always provide proper coverage for their workers. If you were injured in your workplace and your workers' compensation claim was denied by an insurance company or your employer did not have coverage for you, contact an experienced attorney for assistance as soon as possible. They can help you file an appeal or file a lawsuit against your employer.
Wrongful Death
The families of people that have died because of negligent behavior are able to file wrongful death lawsuits. Medical malpractice, premises liability, defective products, and car accidents are potential causes of wrongful death for Gloucester County residents. The families of people that have suffered from wrongful deaths may be able to recover compensation for the loss of income and household care once provided by the deceased person.
Establishing Liability: Proving Negligence in Personal Injury Cases
Many personal injury and wrongful death cases hinge on the concept of negligence. According to the concept of negligence, a party that did not carry out their duty of care to a plaintiff can be held responsible for any damages that the plaintiff suffers as a result of that negligence. In a legal context, negligence involves four basic components:
The defendant had an established duty to the plaintiff.

Examples — Motorists have a duty to obey road rules for the safety of other drivers. Property owners have a duty to keep their premises free of hazards that could hurt people, like dead trees or malfunctioning electric wires. Doctors and medical professionals have a duty to provide care for their patients.
The defendant failed to exercise the normal precautions that any other reasonable person would expect and exercise under the same circumstances. This failure is called "breach of duty."

Examples — Doctors are expected to sterilize surgical tools. Manufacturers are expected to test products for consumer safety, or else to post clear, unambiguous warnings on products whose health risks could not be eliminated.
The defendant's breach of duty resulted in serious injury or wrongful death to the plaintiff. This is called "proximate cause."

Examples — A maintenance man fails to repair faulty wiring, leading to an innocent person being electrocuted. A patient dies because one of his vital organs is punctured after a careless surgeon forgets to remove a surgical tool from the patient's abdominal cavity, a medical malpractice phenomenon known as unintended retention of foreign objects (URFO).
There is evidence of an injury resulting from the defendant's conduct.

Examples — A factory worker loses a finger to a malfunctioning industrial machine. An amusement park visitor has multiple bone fractures after falling from a ride with a broken safety harness.
If it can be proven that your otherwise avoidable injuries were the direct result of the defendant's actions (or lack thereof), that defendant could be held liable for compensating you. An experienced attorney can help you show a plaintiff's negligence so that you can receive the appropriate compensation.
Is There a Time Limit on Filing a Lawsuit in Gloucester County?
If you've been injured or if a loved one passed away, it's extremely important that you act rapidly before you lose your chance to act at all. New Jersey sets a very strict time limit on how long plaintiffs have to file a legal claim, known as the "statute of limitations." The New Jersey statute of limitations on both personal injury and wrongful death claims in Gloucester County is two years, beginning from the date of the death or injury. In all but a few limited circumstances, you will lose the ability to pursue your claim if the statute expires.
While two years may sound like more than enough time if your incident was recent, it is always prudent to start talking with an attorney sooner rather than later. This will allow the maximum amount of time for a thorough, comprehensive investigation into your accident, which may include sorting through medical records, analyzing lab results, and consulting with industry experts.
Compensation Available to Plaintiffs for Injuries in Gloucester County
Plaintiffs in personal injury lawsuits in Gloucester County can receive a few different types of compensation from their lawsuits. One type of compensation is compensatory damages. These include compensation that is proportional to the cost associated with the victim's injury; they can include medical costs (prescription medications, medical equipment, surgeries, physical therapy, visits with physicians, and more), both past and future lost wages, pain and suffering, and loss of companionship. Plaintiffs can also receive compensation for services that are necessary in the aftermath of a major injury, such as house cleaning or caregiving services. Families of victims of wrongful deaths can receive similar compensation, as well as funeral expenses.
The other type of compensation that plaintiffs can receive through a personal injury lawsuit is punitive damages. These are only issued if the defendant acted extremely negligently or recklessly; punitive damages are meant to deter other people and businesses from acting in the same way. Under state law, punitive damages for plaintiffs in Gloucester County are capped at either $350,000 or five times the amount of the compensatory damages, whichever is higher.
Personal Injury Attorney Available in Gloucester County
Even if you aren't sure whether you have a case, it is always worthwhile to speak with an experienced attorney who can help evaluate your situation and explore some of your legal options. Lombardo Law offers free initial consultations, so you have nothing to lose by reaching out.
To set up your free and private legal consultation, call Gloucester County personal injury lawyer Joseph Lombardo at (609) 318-6196 right away. Our phone lines are staffed around the clock, every day of the week.
Practice Areas
Case Results
The Personal Injury Trial attorneys of Lombardo Law Group, LLC have recovered 10s of Millions for accident victims over their careers
Client Testimonials

"Joe is a top-notch attorney who zealously represents his clients with intelligence, compassion and integrity. A great resource and team player, I wholeheartedly recommend Joe Lombardo." – Joseph U.