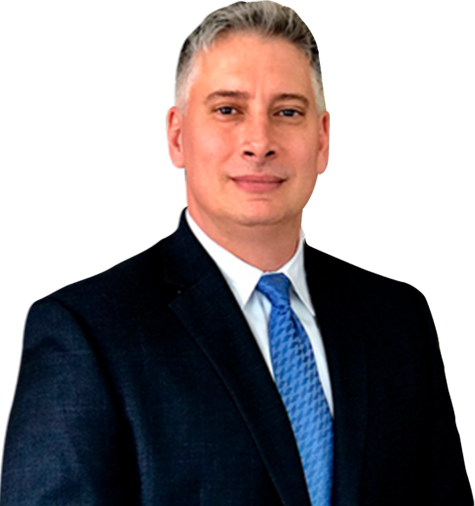 Attorney
Joseph A. Lombardo
Every day, bus drivers are responsible for safely transporting millions of passengers to and from their destinations. When a bus accident is caused by a driver's careless or unsafe driving habits, or because the bus itself suffers from a mechanical defect, injury victims may be able to get compensation for their pain, suffering, medical bills, and other losses. If you were injured in an AC bus accident, or if one of your loved ones was a victim of wrongful death, Atlantic City bus accident lawyer Joseph Lombardo can help you and your family.
For more than 20 years, Joseph has dedicated his practice to representing accident survivors in Atlantic City and NJ. Don't worry if you have lots of questions, or aren't quite sure where to start – that's exactly what we're here to assist you with. To set up a free, confidential case evaluation with Joseph, call Lombardo Law at (609) 445-4300. Our phone lines are always open for your call, including nights and weekends.
Bus Accident Injury and Death Statistics
According to the New Jersey Department of Transportation (NJDOT), a total of 283,115 automotive accidents occurred statewide in 2013, down slightly from 284,062 accidents in 2012. A total of 60,705 accidents (about 21.4%) resulted in injuries, while 506 accidents (about 0.2%) were fatal.
According to the 2013 Fatal Motor Vehicle Crash report issued by the New Jersey State Police, seven fatal accidents involved buses, while another six fatal accidents involved school buses. This means slightly more than one fatal bus accident occurred per month on average in 2013.
The National Highway Traffic Safety Administration (NHTSA) reports that a total of 1,222 fatal motor vehicle accidents involving school transportation have occurred since 2003. Accounting for 8% of these fatalities, bus occupants were statistically least likely to be killed. Occupants of other vehicles were most likely to be killed, accounting for 71% of fatalities. The remaining 21% involved cyclists, pedestrians, and other non-occupants.
In Atlantic City, city buses and other forms of public transportation are part of NJ Transit. In recent years, NJ Transit buses have been involved in crashes and collisions with fire trucks, charter buses, tractor-trailers, passenger vehicles, and pedestrians. In June of 2015, an NJ Transit bus rear-ended a Canadian private bus inside the Lincoln Tunnel, injuring over 30 people.
Proving Negligence in Atlantic City Bus Accident Claims
All drivers have a duty of care toward other drivers, cyclists, and pedestrians. Additionally, professional drivers have a duty of care toward their own passengers. In short, bus operators are obligated to drive safely and soberly, in a manner that does not place anyone inside or outside the bus at risk of being killed or sustaining an injury.
Like all drivers, Atlantic City bus drivers must refrain from driving while intoxicated by drugs or alcohol. Other problems which can lead to bus accidents include fatigued driving, reckless driving, aggressive driving, or driving while distracted, such as texting and driving, which is prohibited under state law. Furthermore, bus drivers are also required to comply with the standards imposed by federal regulatory agencies, such as the Federal Motor Carrier Safety Administration (FMSCA), as well as those imposed by their own employers.
In some instances, the problem lies with the carrier's employment or maintenance policies, or even with the bus itself. For example, if a bus carrier hires a driver with a record of intoxicated driving after failing to conduct a background check, the carrier could potentially be liable if the operator causes a bus crash while driving drunk. Likewise, the carrier could be liable for accidents caused by negligent maintenance. Negligence means failure to exercise the normal standard of care, such as following adequate hiring, screening, repair, and inspection procedures.
If the problem lies with a mechanical fault in the bus, then the manufacturer may be responsible for any resulting injuries or wrongful deaths. Design flaws, manufacturing defects, and improper storage or shipment of bus parts can all cause or contribute to dangerous or deadly hazards. Buses must be routinely inspected to detect mechanical failures. For instance, New Jersey requires that school buses are to be inspected twice per year, in addition to surprise monthly inspections conducted by the Governor's School Bus Safety Task Force.
Finally, there are some Atlantic City bus accidents that don't involve a crash or collision at all. If a passenger is assaulted, sexually assaulted, robbed, or otherwise victimized while riding a bus or waiting at a bus stop, the carrier could be liable depending on the circumstances. Again, bus carriers are responsible for protecting the safety of their riders.
Let Our Atlantic City, NJ Bus Accident Lawyer Help You
If you were hurt in a bus crash in Atlantic City, or if someone you love was hit by a bus, you may be entitled to compensation to help with your medical bills, losses in income, property damage, and other costs related to your injuries. To start discussing your claim in a free and confidential legal consultation, call Atlantic City bus accident attorney Joseph Lombardo at (609) 445-4300 today.
Practice Areas
Case Results
The Personal Injury Trial attorneys of Lombardo Law Group, LLC have recovered 10s of Millions for accident victims over their careers
Client Testimonials

"Joe is a top-notch attorney who zealously represents his clients with intelligence, compassion and integrity. A great resource and team player, I wholeheartedly recommend Joe Lombardo." – Joseph U.