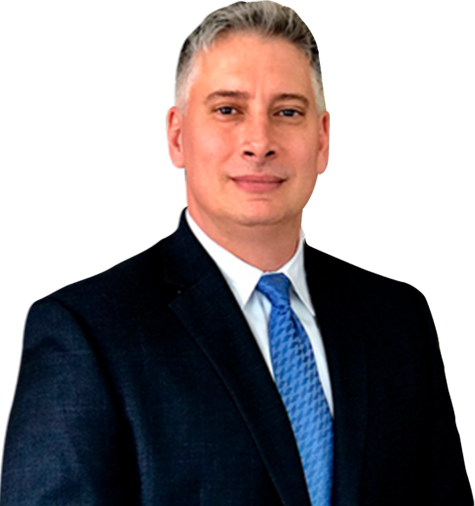 Attorney
Joseph A. Lombardo
If you have been injured in a motorcycle accident, the recovery period can be a stressful time. If you need to file a claim against an insurance company in order to recoup damages either for your treatment, suffering, or lost wages, it may be in your best interest to hire an attorney. A personal injury lawyer with experience in motorcycle accidents will be in the best position to deal with the insurance company claim or lawsuit against another party in order to ensure that you are made whole.
Determining Negligence in a Motorcycle Accident
Because of the innate danger in the operation of a motorcycle and the motorcycle's construction, determining negligence can be complicated. If, after a fall, you only suffer from a broken bone or minor scrapes and bruises, it's best to get a professional opinion regarding your medical condition. Often, with injuries resulting from motorcycle falls, injury to soft tissue may take some time to make itself known. If another motorist causes damages to your body or your bike, you may be in a position to recover monetarily from the damages.
It is important to know that before you deal with any insurance company, it may be in your best interest to contact legal representation. Insurance companies do not work for you and will often try and make you make a statement regarding an accident before you are clear of the details or implications involved in doing so. It is advisable to retain your motorcycle personal injury lawyer before making the statement. Insurance companies make money by limiting money they have to pay out in damages. By knowing the in's and out's of the insurance companies, your attorney will be able to handle the correspondence with the insurance company on your behalf in a fashion so that it will be able to pursue damages if you are entitled to them.
Joseph Lombardo has dealt with hundreds of motorcycle accident cases and can help you understand the issues surrounding a case involving injuries suffered as a result of a motorcycle accident. In a free consultation, Mr. Lombardo can meet with you personally and will, in plain English, help you understand the backdrop of the issue.
If you are looking for an New Jersey injury attorney regarding an accident that took place on a motorcycle
I invite you to contact The Law Offices of Joseph Lombardo. Joseph Lombardo has been representing the rights of clients in personal injury matters in Southern New Jersey since 1993. He has represented individuals who have suffered injuries as a result of accidents from motorcycle accidents, car accidents, and accidents suffered in the home. Call today to schedule a free, initial consultation in which Mr. Lombardo will explain the details of your case and what to expect as you seek to recover compensation for your injuries and suffering. Call today at (609) 418-4537.
Practice Areas
Case Results
The Personal Injury Trial attorneys of Lombardo Law Group, LLC have recovered 10s of Millions for accident victims over their careers
Client Testimonials

"Joe is a top-notch attorney who zealously represents his clients with intelligence, compassion and integrity. A great resource and team player, I wholeheartedly recommend Joe Lombardo." – Joseph U.